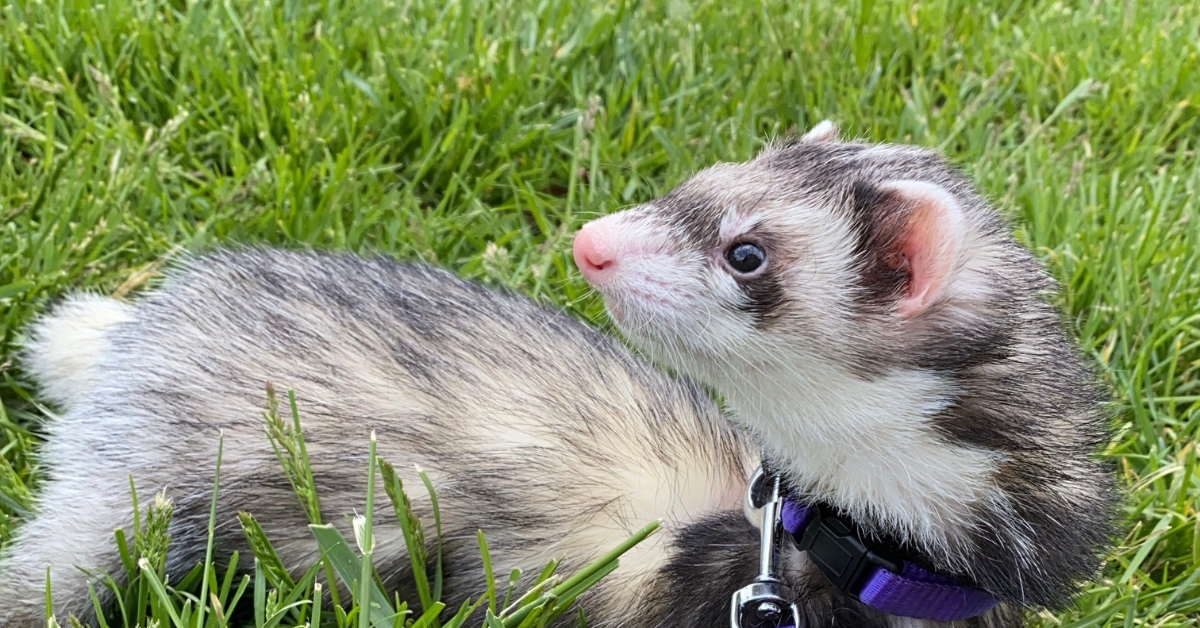 The first ferret I rescued was in 2011.
I was a sophomore in college and found her outside. I had no idea how integral loving her would be to my life and career—it led me to law school to study animal law and it led me to continue rescuing ferrets for the past decade.
Since 2011, I've rescued 8 ferrets. Every one of them was bred by Marshall. Every one of them was sold by Petco. And every one of them was abandoned, requiring rescue.
I've learned a ton about ferrets over the years—I know the best snuggle spots (for example, under the dishwasher is all the rage); I know how to give just the right ear scratches; I know which of my things will be stolen and stashed in their sneaky spots (socks, wallets, credit cards, jewelry, and Twizzlers somehow always end up under my bed). I also know how much ferrets suffer because of how Marshall exploits them.
Commercially-bred ferrets face many health problems.
Ferrets bred by Marshall for commercial sale are prone to various forms of cancer and other illnesses. Petco exclusively sells Marshall ferrets. If a Petco ferret lives long enough, they will die of cancer. After research about this over the past decade, I've figured out why. My research included articles I could find online on the topic, but it also included expert opinions from numerous exotic vets:
They point to Marshall encouraging ferret parents to feed their furry friends Marshall brand food, which lacks the basic nutrition necessary for proper ferret health, leading to fatal intestinal and bowel cancer.
They highlight the fact that Marshall sells ferrets to Petco at such a young age that the ferrets are spayed and neutered in a way that causes adrenal disease (which is improper hormonal release, resulting from the spaying and neutering of animals who are too young).
Ferrets are commonly abandoned by consumers.
My love of ferrets also led me to volunteer at, and rescue from, a couple ferret rescue organizations. I discovered the sheer amount of Marshall ferrets who are sold by Petco who are abandoned months later. Leadership at ferret rescues explain why this is the case:
The information Petco provides consumers about ferret care is inaccurate and incomplete. For example, it's a common misunderstanding perpetuated by Petco that ferrets are rodents who need the same housing as other rodents. That's not the case—ferrets require different bedding because of their skin sensitivity and more exercise than what Petco's suggested ferret housing provides.
Petco sells baby, unsocialized ferrets, leading to the negative stereotype that ferrets are "mean." These fuzzy creatures require lots of love and attention and like other animals, are not inherently mean.
Petco sells Marshall Pet Products to address the natural musk ferrets tend to have, but the products negatively affect ferret skin. This leads to an over-production of odor, resulting in the negative stereotype that ferrets "stink." Properly cared for ferrets have nearly undetectable odor.
Ferrets are suffering in labs.
Through my legal education and work at Rise for Animals, I became very familiar with Marshall's sale of ferrets for both domestic and international experimentation. Marshall breeds ferrets in factory farms along with dogs, minipigs, cats, and other animals. Then they're forced to endure painful, cruel treatment during experiments in labs. A few examples of ferret experiments are:
Finnick Odair (July 15, 2015–May 1, 2021)
I adopted Finnick on August 16, 2018, when he was 3 years old. He was never used in a lab, but he was a Marshall ferret (Marshall tattoos each of their ferrets in the right ear). Finnick's first family bought him from Petco. They fed him Marshall brand food, rarely allowed him to leave his small cage, gave him rodent bedding that led to a bad rash, and ultimately got bored of him and decided to give him away. Finnick's experience was, unfortunately, common of ferrets Petco sells.
Because my darling creature was fed Marshall brand food for so long, he had intestinal issues before I adopted him. He required frequent visits to the vet, steroid medication to control his intestinal inflammation, and a prescription diet. Changing his diet drastically improved his skin and helped tremendously with his sore belly.
However, in the 3 years I was lucky enough to have him in my family, no matter what I did, I couldn't stop the inevitable—bowel disease and fatal intestinal cancer. The fate of so many Marshall ferrets.
Finnick's life with me included a cage-free lifestyle, more treats than he could ever finish, snuggle spots wherever he wanted them, other furry friends to cuddle with, frequent visits to the park to soak up some sun, and enough love to make up for some of the suffering from his earlier life. Finn lived his life to the fullest, ultimately succumbing to the inescapable fate Marshall causes the ferrets it exploits.
He is dearly missed and will never be forgotten.
You can contribute to Finnick's legacy.
Your donation in Finnick's name will go to work immediately to fight for ferrets bred by Marshall and all animals trapped labs. Make your best donation today. Thank you.