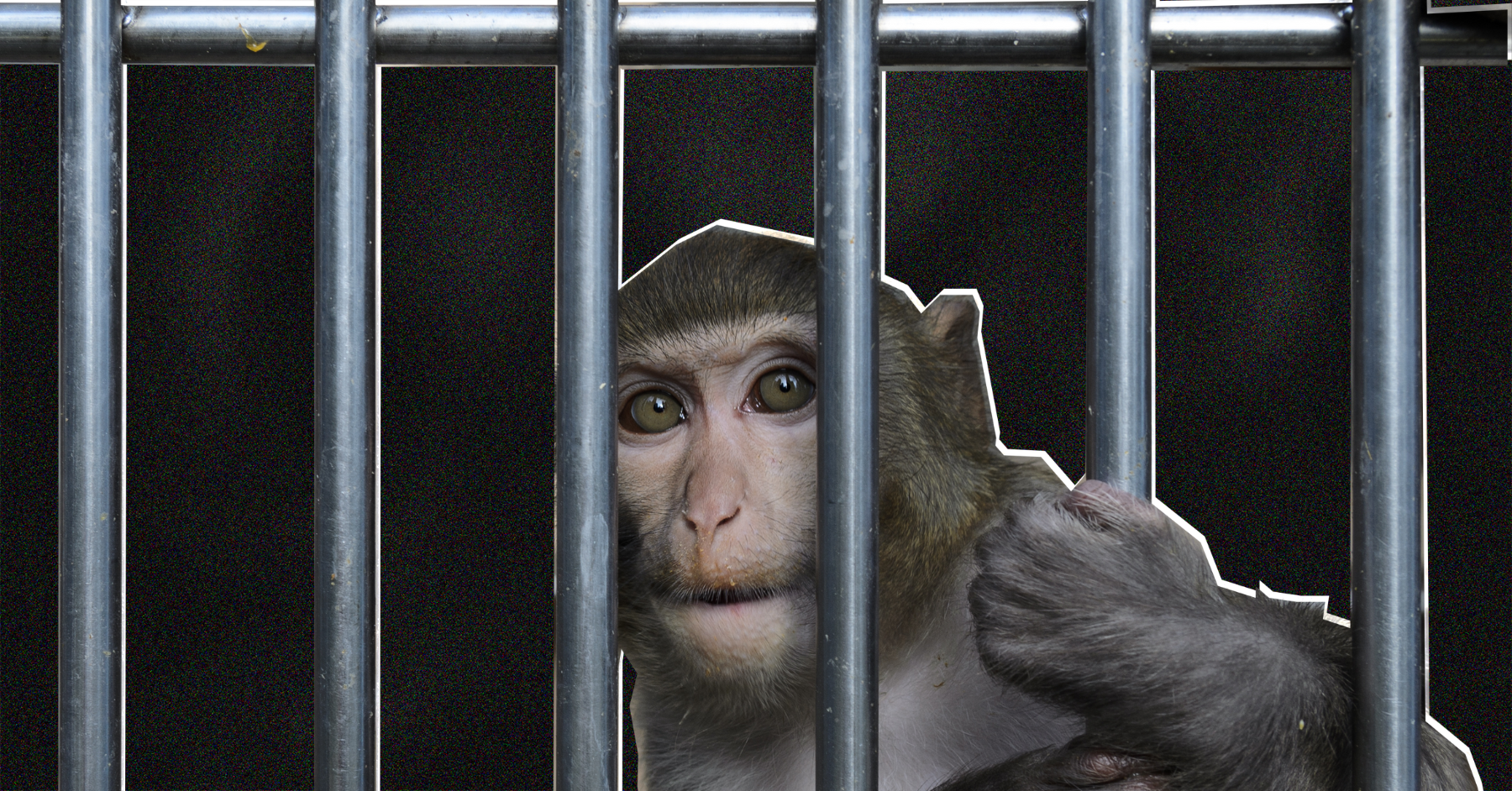 Monkey Poachers Are Fueling the Animal Research Industry
The Rise for Animals Team, November 17, 2022
In the wild wetlands of Southeast Asia, a person sets a trap and awaits a valuable catch: an endangered monkey who will be exchanged on the black market to a co-conspirator breeding company, then sold and shipped to the U.S. for experimentation. 
It sounds like the plot of a thriller, but this callous scheme is real. 
On November 16, 2022, the U.S. Justice Department charged eight individuals with running an illegal monkey-smuggling operation in which hundreds of endangered non-human primates were poached from Cambodia and sent to the U.S. for use in animal experiments. Two Cambodian wildlife officials were among those charged with felony smuggling and conspiracy.
Once captured, the wild monkeys were laundered and falsely labeled "captive bred" in an effort to meet demand for so-called research monkeys amid a global short supply. 
According to the U.S. Centers for Disease Control, the U.S imported—in the last year alone—around 32,000 non-human primates for use in biomedical and pharmaceutical research. 
These animals, stolen away from their families and homes, were brought here to subsist as prisoners in an industry we know doesn't even produce results: Data shows, again and again, that animal research is not effective in solving issues of human health. 
Wild populations of long-tailed macaques are decreasing at an alarming rate, as indicated by their recent designation as an endangered species.
The International Union for Conservation of Nature says long-tailed macaques are "threatened by high demand for the national and international trade, with hunting and trapping occurring" as well as habitat destruction and a general lack of protections. The species' population is expected to decrease by over 50% in just three generations.
"Wild populations of long-tailed macaques, as well as the health and well-being of the American public, are put at risk when these animals are removed from their natural habitat and illegally sold in the United States and elsewhere," said Edward Grace, U.S. Fish and Wildlife Service Assistant Director, Office of Law Enforcement, in a statement. 
75% of emerging infectious human diseases are zoonotic—meaning they originate from non-human animals.
In a world traumatized by the COVID-19 pandemic, the use of illegal, wild-caught animals in laboratories is especially alarming. Cambodia, now exposed for its government corruption tied to wild monkey-smuggling operations, is a top exporter of non-human primates entering the U.S. 
---
Update 12/14/22: Good news! Cambodia has halted its export of non-human primates.