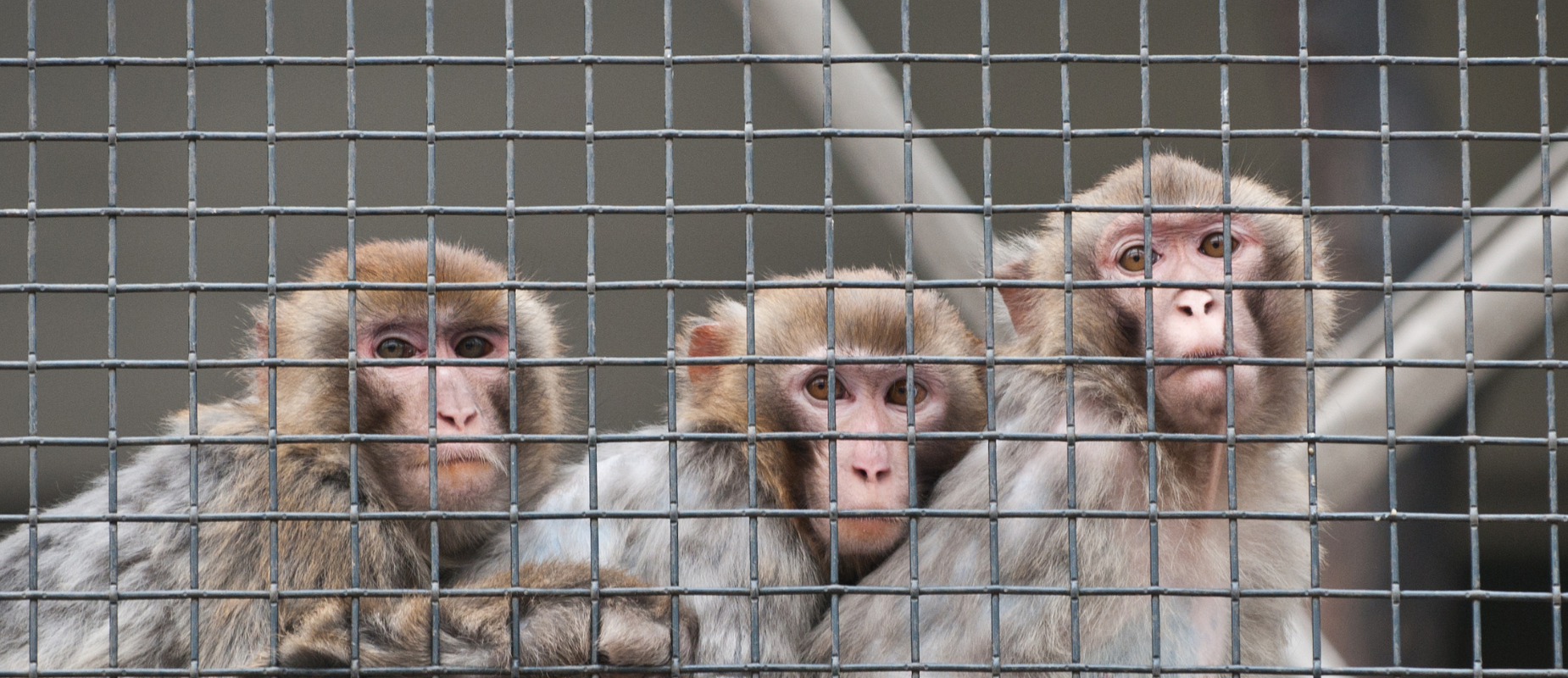 President Biden: Reject the Proposed Monkey Stockpile
The Rise for Animals Team, May 13, 2021
We're most powerful when we stand together
Together with a coalition of animal advocacy organizations, scientific organizations, primate sanctuaries, scientists, and ethicists, we are urging President Joseph R. Biden, Jr. and Vice President Kamala D. Harris to turn down a proposed "stockpile" of monkeys for use in biomedical experiments.
Facing a short supply of "test subjects," animal researchers want the U.S. to stockpile monkeys for future experiments
Over the last year and a half, experimenters have faced an unanticipated rise in demand for monkeys to be used in research and testing. This shortage of "test subjects" resulted from the world's scramble to halt the COVID-19 pandemic and China's subsequent ban on the international sale of wild animals. The recent scarcity of monkeys available for use in biomedical experiments has led to discussions around the creation of a strategic Federal reserve of monkeys—an emergency "stockpile" of some of our closest relatives in the animal world.
Some scientists claim research on monkeys—whose DNA closely resembles that of humans—is necessary to discover medical breakthroughs, cures, and vaccines. But we know better. The National Institutes of Health have admitted over 90% of drugs that show some promise in animals end up failing in human clinical trials. Monkeys are not miniature, fur-covered humans; their biology does not match that of humans, no matter what scientists like to pretend to keep their continually unproductive experiments funded.
Animal experiments cause an abysmal waste of resources, time, and especially lives, both human and non-human.
The Biden-Harris Administration should reject the proposed "stockpile" of nonhuman primates
We proudly signed an emphatic, forthright letter sent to the Biden-Harris administration by the National Anti-Vivisection Society, urging the Federal Government to consider both the ethical and scientific implications of hoarding monkeys for research. We have requested the Administration instead focus on the development of groundbreaking and humane scientific models that will better model human biology, find cures more effectively, and save animals from undue harm.
Together, the letter's undersigned parties have raised our collective voice to protect countless nonhuman primates who could be forcibly subjected to immoral, ineffective research as a result of a federal monkey stockpile.
---
Monkeys used in research often come from the international primate trade. It's a threat to animal welfare, biodiversity, and human health—all to support the cruel and unnecessary animal research industry. Earlier this year, we uncovered stunning figures that reveal the immense scale of cruelty happening to monkeys behind the closed doors of research and education facilities.