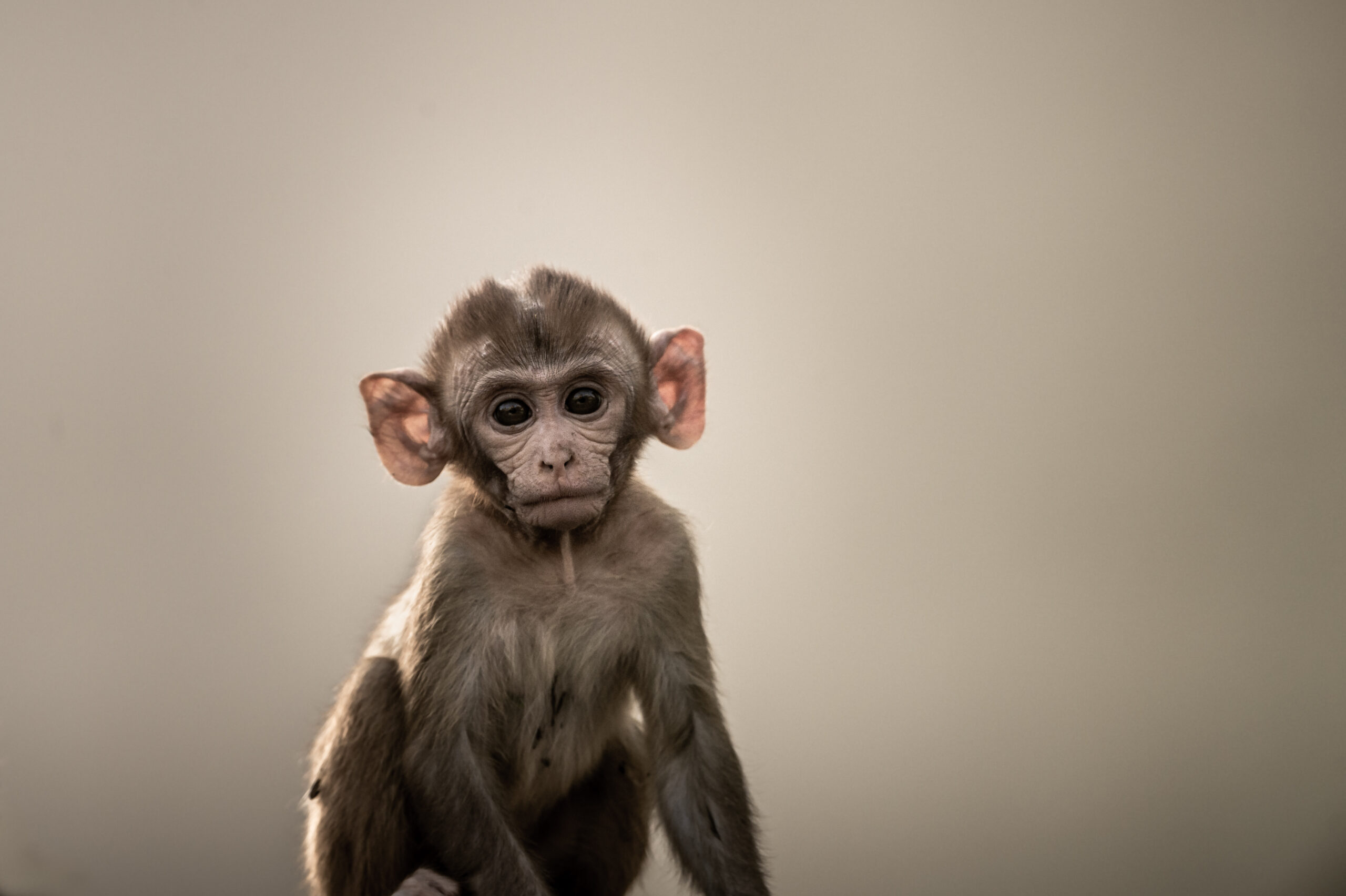 Exclusive: Nearly Half a Million Monkeys Imported to U.S.
The Rise for Animals Team, March 18, 2021
Rise for Animals has secured rare figures detailing the numbers of nonhuman primates imported to the U.S. in recent months and years. 
The U.S. government doesn't want you to know how many monkeys have been brought here to suffer
With the exception of illegal imports, every single U.S.-bound monkey—whether snatched from her rightful home in the wild or bred in an unnatural, human-run facility abroad—is quarantined and tracked by the U.S. Centers for Disease Control and Prevention (CDC). Quarantine is enforced to prevent the spread of Ebola, tuberculosis, yellow fever, and many other infections from nonhuman primates to humans. 
The exact numbers of imported nonhuman primates have been notoriously difficult to obtain. The U.S. government doesn't want you to know the information we're about to share with you. We have this extraordinary information only because a Veterinary Medical Officer from the CDC's quarantine branch let down her guard during an online workshop for animal experimenters—and we were there. 
These figures reveal the immense scale of cruelty happening behind closed doors of research and education facilities. 
Nearly half a million lives stolen over the last 20 years 
From 2000 to 2020, approximately 482,000 primates have been imported to the U.S. for use by humans. That's nearly half a million monkeys and other primates who have been brought into the U.S. within the last 20 years for one ignominious reason: to satisfy human curiosity. 
In 2000, the U.S. received about 12,000 nonhuman primates from international traders. Twenty years later, in 2020, that number had more than doubled. 
The data we obtained also reveals a 21% drop in the total number of monkeys imported from 2019 to 2020, from 33,818 primates in 2019 to 26,728 primates in 2020. But it's important to note 2020's drop in procurement of animals isn't due to a lessening interest in using the animals.

In 2020, the SARS-CoV-2 pandemic we all know as "COVID-19" drove a massive increase in demand for monkeys to be used in vaccine research across the world. Research facilities across the globe scrambled to find monkeys when China, the leading country of origin for primate imports in 2019, suddenly halted its export of nonhuman primates. 
Nonhuman primates are taken from all over the world 
Stunning figures show the number of nonhuman primates imported from Cambodia were up 82.8% from 2019 to 2020. Imports from China were down 81.6% over the same period.
The CDC receives monkeys headed to any of 25 registered importers which include 14 commercial sellers, six zoos, two national primate research centers, two "animal acts," and one university. The CDC noted that "importers continue to ship primarily medium-sized shipments [of nonhuman primates to the U.S.] on commercial flights."
The overwhelming majority of nonhuman primates imported are cynomolgus macaques.
A threat to animal welfare, biodiversity, and human health
You already know animal experimentation is inhumane and ineffective. Animals—even monkeys—are not miniature humans, so we choose to champion new technologies and human-based science that will create a safer, friendlier world for humans and nonhuman animals alike.
In the midst of 2020's global health emergency, the urgency to create a COVID-19 vaccine meant drug developers had to expedite their testing procedures to include humans far sooner than usual.
"I don't think proving this [vaccine] in an animal model is on the critical path to getting the [Moderna COVID-19 vaccine] to a clinical trial."
-Dr. Tal Zaks, Chief Medical Officer at Moderna, in 2020
Dr. Zaks was right. In under a year, scientists were able to create a handful of effective vaccines thanks to hastened human-based trials. We can see, finally, an end to the pandemic gleaming on the horizon.
The COVID-19 vaccine development and production are proof that animals are not a perfect model of human biology. They're proof that the lives of 480,000+ nonhuman primates imported over the last 20 years have been needlessly wasted.
The international primate trade is a threat to animal welfare, biodiversity, and human health—all to support a cruel and unnecessary biomedical research industry.
With your help, we can reduce the number of animals imported in the name of science
Cambodia has overtaken China as the number one exporter of nonhuman primates to the United States. Please join us in urging W. Patrick Murphy, U.S. Ambassador to Cambodia, to cease importation of nonhuman primates to the United States.
---
The figures in this blog were obtained by Rise for Animals in a presentation by Gale Galland, a Veterinary Medical Officer in the CDC's Division of Global Migration and Quarantine, who presented "Nonhuman Primate Importation During the SARS-CoV-2 Pandemic" during an online workshop of the National Academies of Sciences, Engineering, and Medicine on March 9, 2021. You can view the original documents here. 
Since 1975, the CDC has regulated the import of all nonhuman primates—the animals we know as monkeys, chimpanzees, orangutans, gorillas, gibbons, apes, baboons, marmosets, tamarins, lemurs, and lorises, among others. Under the federal regulation 42 CFR § 71.53, nonhuman primates may be imported only for "scientific, educational, or exhibition purposes" [source].  
---
Show your support for high-impact work to free animals from labs. We can't achieve our mission without you. Together, we will end animal experimentation in our lifetime. Make your gift today.