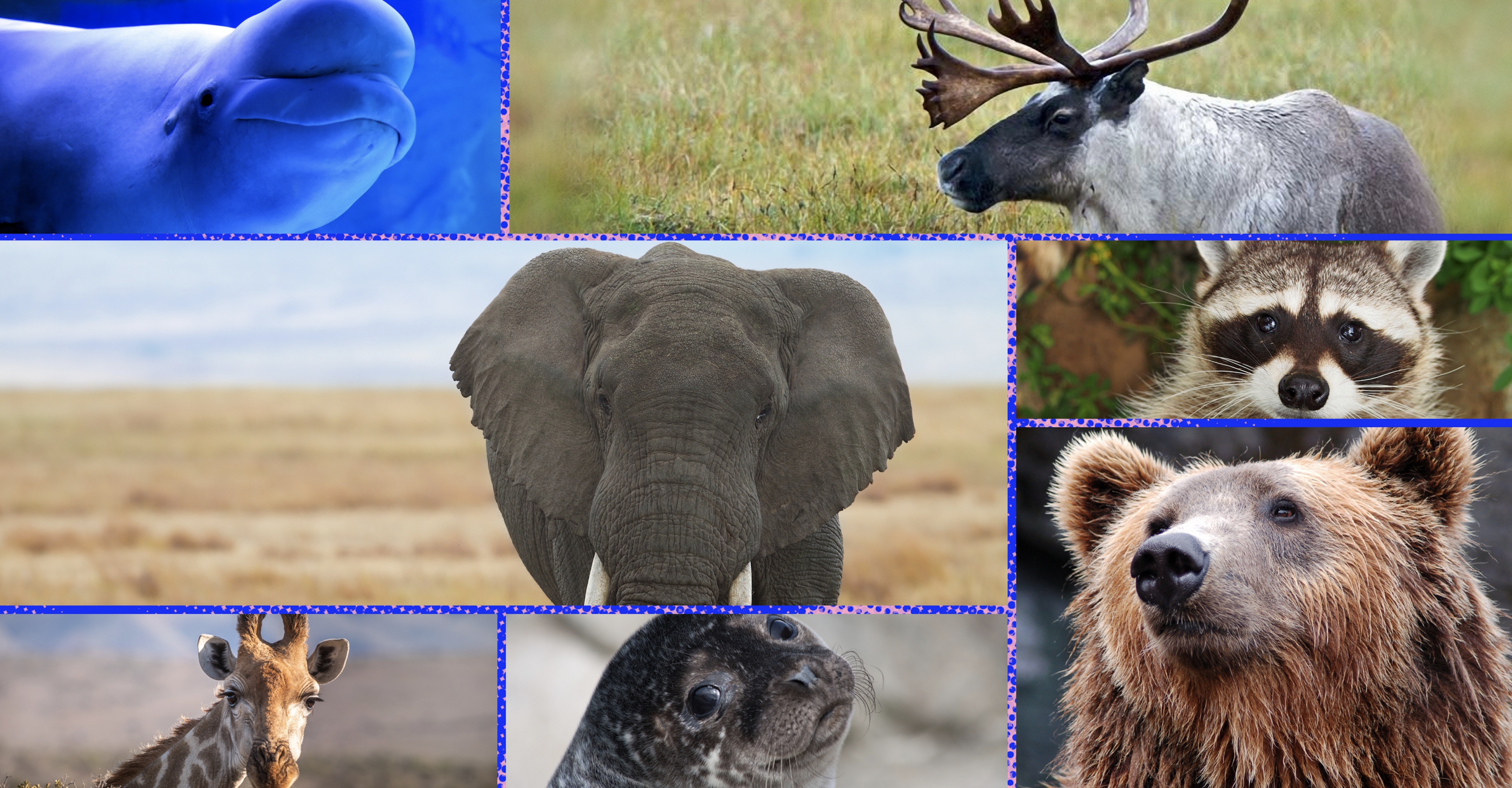 It's National Wildlife Week, an opportunity to reflect upon the majesty of wild animals and come together in the name of their protection . . . unless you're part of the billion-dollar animal research industry.
In the world of vivisection, these beacons of nature's beauty and majesty are dismissively referred to as "Other Animals", final column numbers entered as numerical values in government filings.
"Other Animals" serves as the description of the final category for which regulated research facilities must report the nonhuman animals exploited during the previous year. Unlike the eight, delineated categories that serve to call attention to a particular type of nonhuman (i.e., "Dogs"), this nondescript category acts as a catchall, forcing thousands upon thousands of individuals under a generic umbrella that belies the devastating complexity of the research industry's exploitation.
Indeed, wild animals constitute a significant percentage of nonhuman research subjects. A list of the types of wild beings reported by labs in 2021 is included below, and its members range from squirrels to dolphins, deer to bears, bats to sea lions, and mice to moose.
Just as there is no atrocity that researchers will forego inflicting upon nonhumans, there is no life safe from becoming commodified in the name of human curiosity.
If captivity could be described as most difficult for any subset of nonhuman research subjects, it seems assured that it would include wild animals—beings who have resisted domestication by humans and remain fully disposed to freedom and autonomy. Indeed, even animals "who have lived indoors for hundreds of generations, under artificial light and in hermetically sealed cages" retain their natural instincts, "notic[ing] the seasons and adjust[ing] their behavior accordingly…."
Not included in wildlife listings are non-human primates (who are categorized separately), and both cold-blooded animals (including lizards and snakes) and insects—unaccounted for and incalculable numbers of sentient beings who represent an increasing percentage of experimental victims. So, as is the case with all available research data, the harms inflicted upon nonhumans is even more extant than we know.
This National Wildlife Week, please share this post to spread awareness for all of the "others"–the wild, who yearn and are meant to be free.

2021's "Other Animals" included:
Addra gazelle
African elephant
African Soft-Furred Rat / Multimammate Mouse
African yellow house bat
Allegheny Woodrat
Alpine chipmunk
Alston's brown mouse / Short-tailed singing mouse
American badger
American beaver
American bison
American false vampire bat
American least shrew
American marten
American mink
American pika
American pine vole
American pygmy shrew
American red squirrel
American water shrew
Angolan soft-furred fruit bat / Angolan fruit bat
Anoa
Arctic souslik
Arizona Cotton Rat
Armenian hamster / Migratory hamster
ARS birds
ARS fish
ARS mice
ARS rats
Asian elephant
Asiatic brush-tailed porcupine
Aztec Deermouse
Bare-tailed woolly opossum
Bearded seal
Beluga whale
Big brown bat
Big-eared opossum
Bighorn sheep
Binturong
Black rhinoceros
Black-and-rufous elephant shrew
Black-banded squirrel
Black-footed ferret
Black-shouldered opossum
Black-tailed prairie dog
Bobcat
Bongo
Botta's pocket gopher
Bottlenose dolphin
Brazilian free-tailed bat
Brow-antlered deer / Eld's deer
Brown bear
Brown long-eared bat
Brush mouse
Bryant's woodrat
Burchells / Grants / Chapmans / Plains zebra
Bushy-tailed woodrat
Cactus mouse
Cairo spiny mouse
California bat
California mouse
California pocket mouse
California rock squirrel
California sea lion
California vole
Canadian lynx
Cape ground squirrel
Cape Porcupine
Caribbean manatee
Caribou
Cave Myotis
Central American cacomistle
Cheetah
Chisel-toothed kangaroo rat
Colonial Tuco-Tuco
Common mole-rat
Common tree shrew
Cotton Deermouse
Coyote
Damara / Damaraland mole-rat / Damaraland blesmol
Deer mouse
Degu
Desert cottontail rabbit
Desert kangaroo rat
Desert pocket mouse
Desert woodrat
Douglas's squirrel
Dromedary camel
Dusky-footed woodrat
Eastern chipmunk
Eastern cottontail rabbit
Eastern fox squirrel
Eastern grey kangaroo
Eastern grey squirrel
Eastern mole
Eastern pipistrelle
Eastern shrew-mouse
Eastern woodrat
Egyptian fruit bat
Elk
Ermine
European Common vole
Evening bat
False killer whale
Fat-tailed dunnart
Fisher
Four-striped grass mouse
Four-toed hedgehog
Fringed bat
Gambian pouched rat / Northern giant pouched rat
Gappers red-backed vole
Giraffe
Golden-mantled ground squirrel
Grassland rat
Gray fox / Grey fox
Gray wolf / Grey wolf / Timber wolf
Greater bushbaby
Grevy's zebra
Grey four-eyed opossum
Grey red-backed vole
Grey seal
Grey short-tailed opossum
Grizzly Bear
Groundhog / Woodchuck
Guadalupe fur seal
Gunnison's prairie dog
Hairy-tailed mole
Harbor seal
Harris's antelope squirrel
Hawaiian monk seal
Hinny
Hippopotamus
Hispid cotton rat
Hispid pocket mouse
Hoary bat
House mouse / lab mouse
House shrew
Idaho ground squirrel
Indian grey mongoose
Indian rhinoceros
Jaguar
Jamaican fruit-eating bat / Jamaican fruit bat
Kemps spiny mouse
Killer whale
Kinkajou
Large mouse-eared bat
Largha seal
Least chipmunk
Lesser Egyptian jerboa
Lesser kudu
Lion
Little brown bat
Little pocket mouse
Lodgepole chipmunk
Long-footed bat
Long-tailed pocket mouse
Long-tailed weasel
Lump-nosed bat
Marsh rice rat
Masked shrew
Meadow jumping mouse
Meadow vole
Merriam's kangaroo rat
Mexican long-eared bat
Mongolian gerbil
Moose
Mountain beaver
Mule deer
Muskox
Muskrat
Naked mole-rat
Nile rat
Nine-banded armadillo
North American black bear
North American porcupine
North American river otter
Northern elephant seal
Northern flying squirrel
Northern fur seal
Northern grasshopper mouse
Northern pygmy mouse
Northern red-backed vole
Northern short-tailed shrew
Northern tree shrew
Norway rat / lab rat
Nubian ibex
Oaxacan Big-toothed Deer mouse
Ocelot
Oldfield mouse
Ord's kangaroo rat
Pallas's long-tongued bat
Pallid bat
Parnell's mustached bat
Patagonian cavy / Mara
Pinyon mouse
Plains pocket gopher
Polar bear
Prairie vole
Pronghorn
Puma / Mountain lion / Cougar
Pygmy squirrel
Raccoon
Red bat
Red fox (includes Silver fox & Cross fox)
Red kangaroo
Red Tree Vole
Red wolf
Reeve's muntjac
Reindeer
Ring-tailed lemur
Ringed seal
Ringtail
Royal antelope
Sable antelope
Sea otter
Seba's short-tailed bat
Seminole bat
Senegal bushbaby
Serval
Shadow Chipmunk
Shortfinned pilot whale
Silky pocket mouse
Silver-haired bat
Slender-tailed meerkat
Small Indian mongoose
Smoky shrew
Snowshoe hare
Southeastern bat
Southern bog lemming
Southern flying squirrel
Southern multimammate mouse
Southern plains woodrat
Spiny Mouse
Springbok
Star-nosed mole
Steller / Stellers / Northern sea lion
Stephen's kangaroo rat
Striped ground squirrel
Striped hyena
Striped skunk
Sugar glider
Swift fox
Syrian / Golden hamster
Tail-less tenrec
Thicket rat
Thirteen-lined ground squirrel
Tiger
Townsend's chipmunk
Turkish Spiny Mouse / African Spiny Mouse
Virginia opossum
Western harvest mouse
Western mastiff bat / Western bonneted bat
Western spotted skunk
White rhinoceros
White-footed mouse
White-nosed coati
White-tailed antelope squirrel
White-tailed prairie dog
White-throated woodrat
Wild boar
Woodland jumping mouse
Yellow armadillo