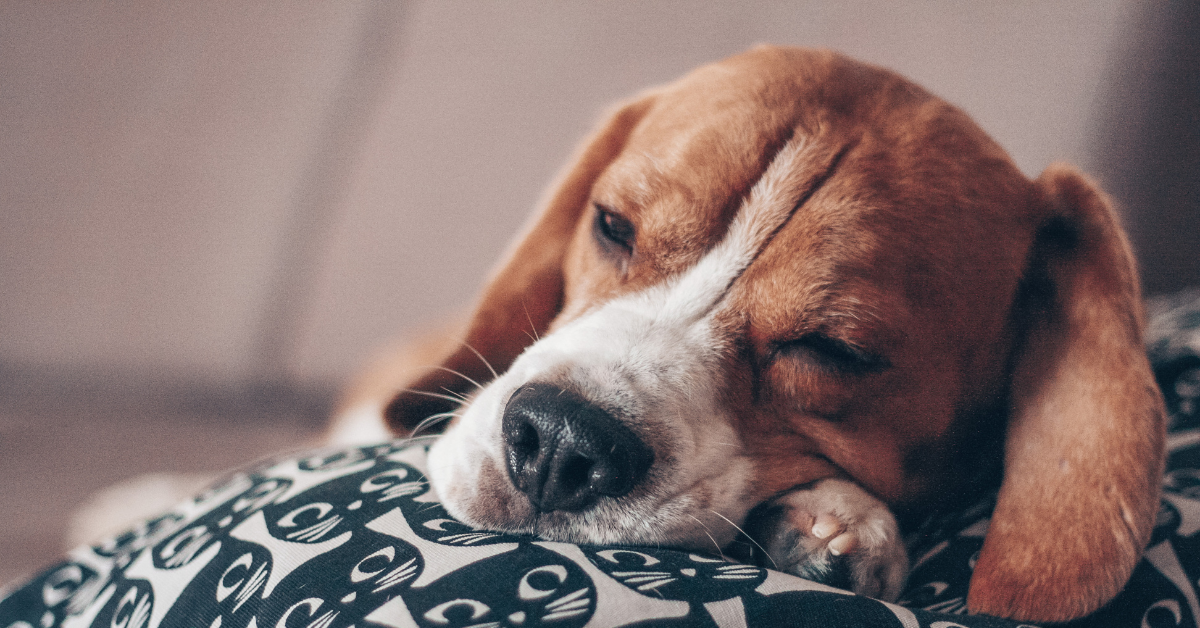 Indy came into my life on August 7th, 2020.
His name is from one of my favorite movies growing up, Indiana Jones. He became lovingly known by a variety of nicknames: Potato, Tater, Sweet Potato, Indiana, Jonesy, etc. The potato nicknames came from his roly-poly and docile demeanor, and the way he'd show his potato-shaped belly to demand attention.
Indy was one of three beagles rescued from an animal testing lab here in San Diego.
They had never touched grass before, they had never been on a leash before, and they had never had the opportunity to be free. Ever. These boys were born in New York at a facility called Marshall BioResources. Marshall breeds and confines animals to supply animal testing labs—at any given time, they have over 60,000 animals trapped in this farm.
Indy spent 6+ years in a cage. The dogs were understandably nervous when the van doors to liberation opened, but Indy's tail was wagging constantly while looking out at us. I picked him up and put him on the ground for the first time. He stood there while I pet him—he was unsure, nervous, scared, and confused. But soon enough, we set off to explore!
Over the next few weeks, we explored San Diego and beyond together. He met lots of new humans, doggos, and one cat housemate named Lucy. Whenever we'd go somewhere, I ended up having to carry the 25 pound furry potato most of the way. He didn't understand 1.) why we were walking somewhere, 2.) why he had to be on a leash, and 3.) why certain grass was just TOO DARN SQUISHY for his liking.
Indy's confidence grew quickly and he LOVED every single person that he met.
Whenever my roommates started cooking at home, Indy would run out of my room and go investigate the smells. He came to love potatoes (especially french fries) and peanut butter. The "poopie zoomies" became a post-workday ritual: he would run around for a couple of minutes at high speed before doing his business.
Unfortunately, Indy's life after labs was not all poopie zoomies and potatoes. He spent a lot of time at multiple vets and the emergency hospital. After only two days together, Indy had his first seizure with me and continued to have seizures regularly. Seizures were just one of his many health issues from his past life.
On October 11th, 2020, Indy left this world by my side, knowing only two months of unconditional love and freedom.
The vet who did Indy's euthanasia said, "Sometimes there are worse things for dogs than death." An animal born into the world of breeding, cages, and testing lives an unnatural life that no being should have to live through. Most animals at Marshall won't ever feel love, or blankets, or soft cushions, or grass, or the ocean. Indy was my soulmate, and I will miss him forever. He touched so many people in our two months. Strangers who asked about him were horrified to learn about Marshall BioResources, and that places like Petco keep Marshall products in stock.
Please tell Petco to stop selling Marshall Pet Products and ferrets.
---
Go one step further! Snap a selfie and post on social media, tagging @Petco and @Rise_forAnimals! #PetcoDropMarshall #StopMarshall