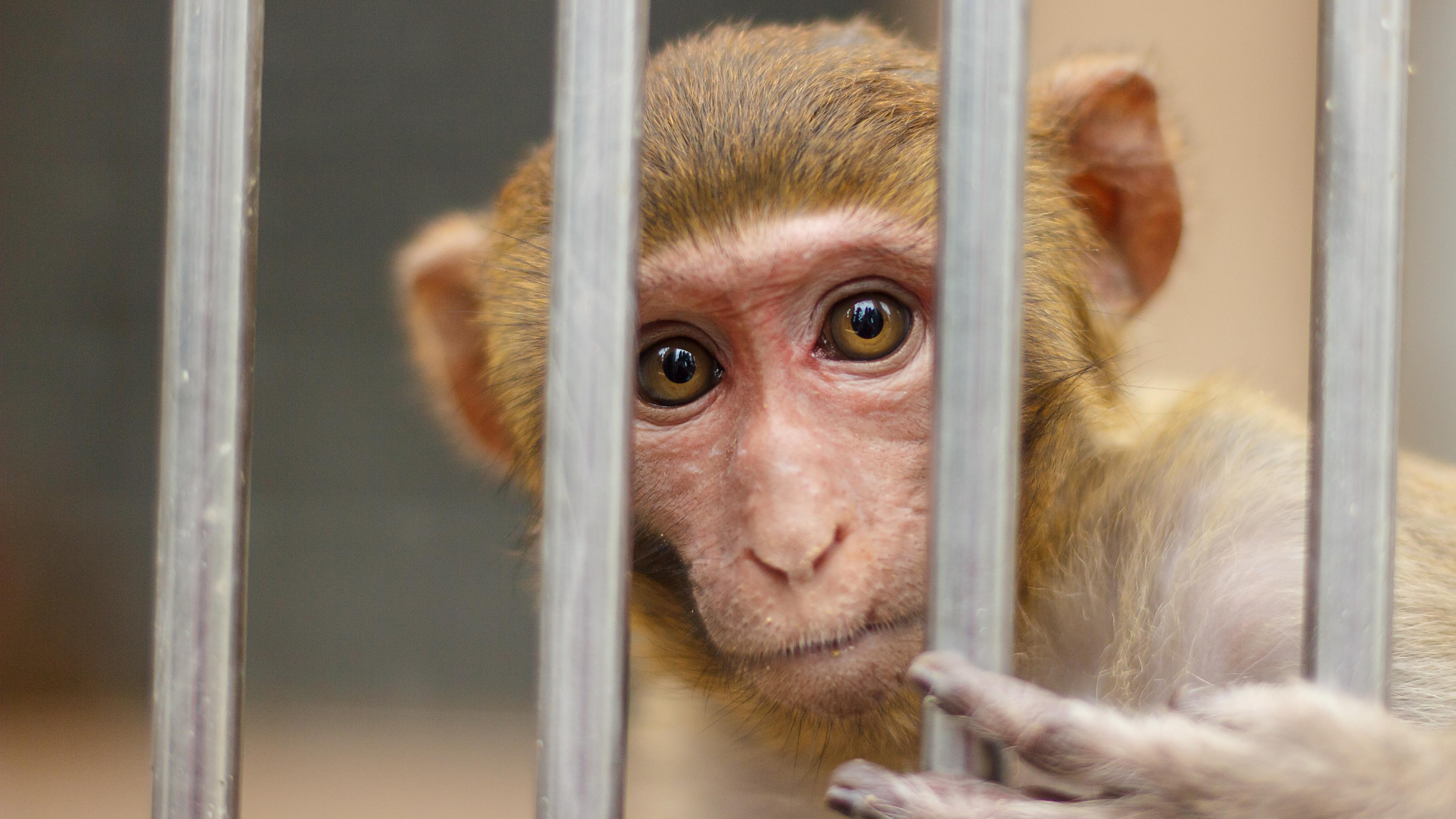 We have uncovered that in 2019 three monkeys died of dehydration and a fourth suffered due to staff negligence at a South Carolina lab.
Alpha Genesis, Inc., located in Yemassee, a tiny town 60 miles west of Charleston, admitted that the three primates died of thirst and a fourth was treated for dehydration due to the water line to the cages not functioning properly. They also stated that their staff neglected to check the water line—something they're required to do.
The documents we received through a Freedom of Information Act (FOIA) request revealed the unfortunate story: Primates at Alpha Genesis went days without water. In a letter from the Office of Laboratory Animal Welfare (OLAW) and Dr. Greg Westergaard, President and CEO of Alpha Genesis, Inc., OLAW wrote,
"From the information provided OLAW understands that on August 10, 2019 two rhesus macaques were found dead and another was found dehydrated. That animal was treated for dehydration and suspected diarrhea and is recovering. Two days later another rhesus was found dehydrated and treated but subsequently died. At that time an investigation of the animals' housing was performed finding the water supply to the caging was not functioning properly."
According to Prof. John Gluck, Ph.D., a researcher-turned-animal-advocate who has over 35 years of experience with nonhuman primates in a biomedical setting, their lack of water should have been noticed much sooner because primates exhibit signs of water deprivation before reaching the point of death. He states:
"When monkeys are inadvertently deprived of water to the point of coma and/or death, many clear signs of problems have been missed or ignored. Animals severely dehydrated stop eating and likely leave an accumulation of dry biscuits on the cage floor, show rapid respiration, become lethargic and in a huddled posture, among other clear symptoms."
It wasn't just one Alpha Genesis staff member's mistake either—several staff were tasked with checking the water supply and yet all failed to do so.
Dr. Westergaard, Alpha Genesis CEO, wrote:
"However, in this circumstance, the supervisor, the animal care technician and the veterinary care technician from 8/9/2019-8/11/2019 did not perform one of their main job functions of checking the lixits [watering bottles]."
In learning this detail, Prof. John Gluck explained how:
"…if dehydrated monkeys are not identified before crisis it is not just because the drinking apparatus has not been checked, it is because the animals have not been looked at as vulnerable individuals totally dependent on human care."
So while failing to check the water system is a major issue within Alpha Genesis, there is also a clear lack of attention given to the primates in their care.
Alpha Genesis Deserves the Maximum Fine
In response, NEAVS has sent this letter to the USDA's Animal Care Division asking for them to conduct an investigation into Alpha Genesis and impose the maximum fines for this clear violation of the Animal Welfare Act.
Sadly, Alpha Genesis has a history of negligence, especially concerning failure to provide water. In 2015, one monkey died from dehydration and five others were treated after their water line was accidentally switched off for a week. In 2017, seven monkeys were treated for dehydration because the water line to their cage was disconnected.
Alpha Genesis has self-reported to OLAW twelve non-human primate deaths due to negligence within the last three years alone.
After years of this pattern of negligence, Alpha Genesis should pay for the harm they've caused these primates.