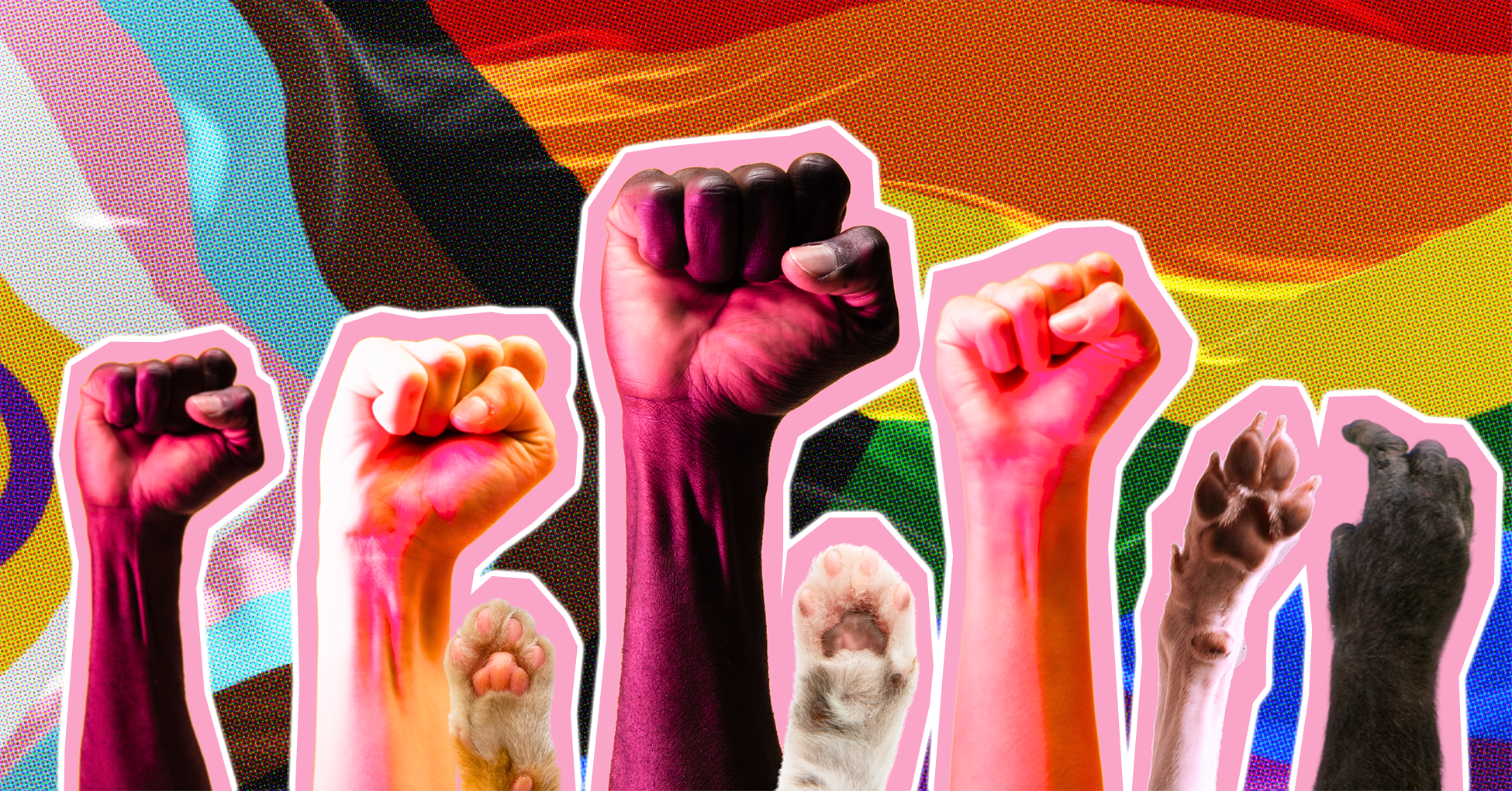 June is Pride month, and we are here for it!
Pride Month's message – freedom and liberation "without exception" – is music to our ears.  
We are an animal rights group. But, more fundamentally, we are a social justice group.
In championing the rights of nonhuman animals, we are acutely aware of two critical truths:
One: There are clear, undeniable

connections

"between the oppression of human gender and sexual identities and the exploitation of animals." (These connections are foundational:

historically

, the "criterion created to exclude animals from the human community was also used to ostracize" and stigmatize groups of humans.) 

Two: Those of us dedicated to achieving social justice must fully support and join the

call for

"a social justice theory that incorporates the interconnectedness" of all forms of oppression and "challenges 'violence against the social other of whatever species . . . or gender . . . or sexual difference'."
We fully support rights for all. We believe that all forms of oppression are interconnected.
By combatting vivisection and championing nonhuman rights, we most directly fight one form of systemic oppression; but, we are convinced that this work directly supports and protects the rights of others because all oppression sprouts from the same poisonous roots.
As explained by Dr. Steven Best, speciesism has "provided the conceptual paradigm that encouraged, sustained, and justified the domination" of many groups and "types of humans that did not fit the rationalist, patriarchal model." 
By combating speciesism, an ideology "foundational to intra-species oppression", we strive to make the world a fundamentally better place for humans, too.
Oppression against anyone – human or nonhuman – hurts everyone, and we must join together in opposition to it.
We are proud to celebrate Pride.
We are honored to stand with our LGBTQIA2S+ allies.
And, we are committed to rising with them to create a just world. For all.