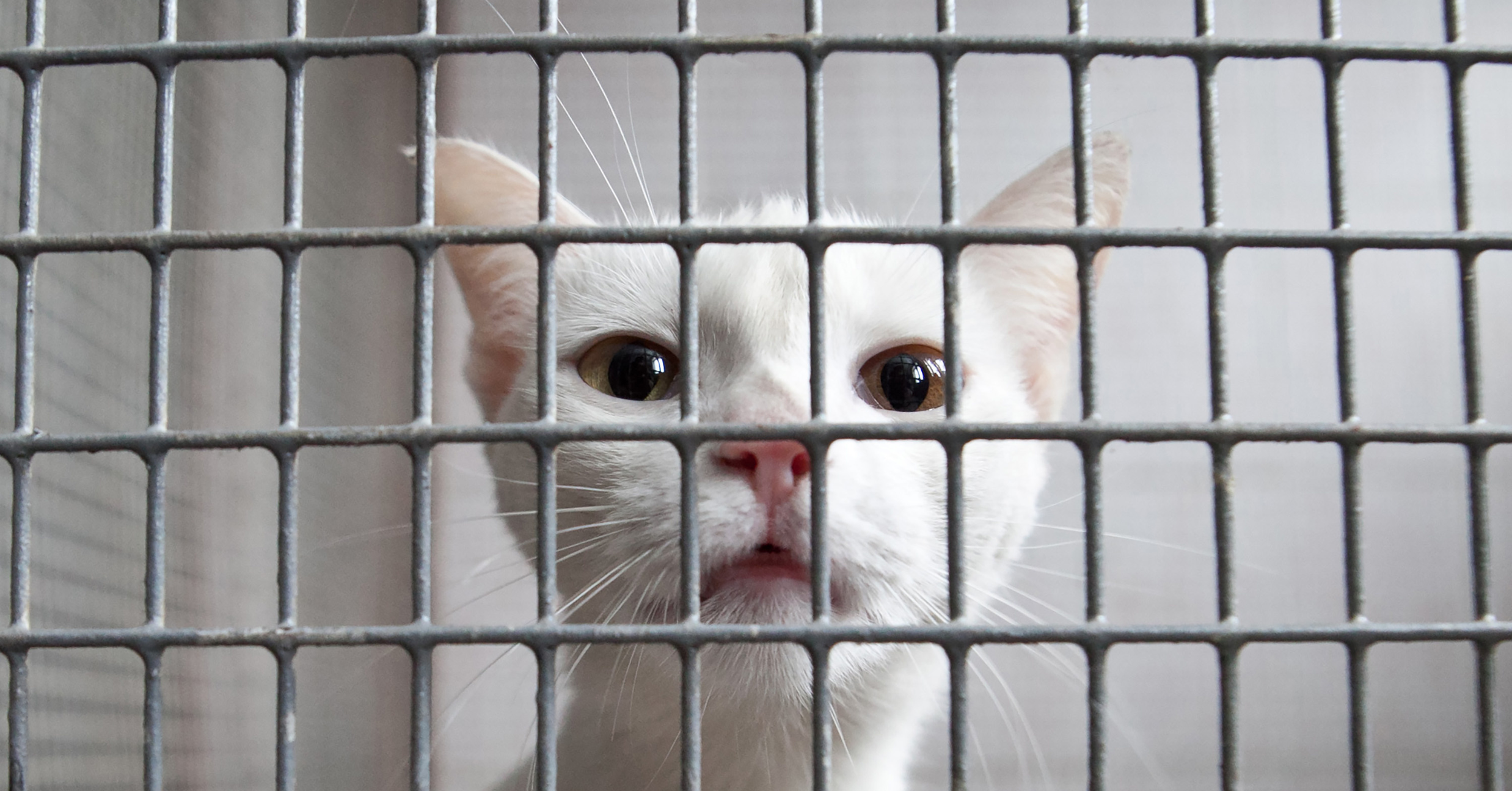 When we think of stray animals, we often picture dogs and cats wandering dark streets or being confined behind cage bars in animal shelters. We rarely consider, however, that those wandering the streets could end up experimental subjects or that those cage bars we picture confining terrified dogs and cats could just as easily belong to research laboratories, where stray animals have historically been—and, in some states, continue to be—exploited and killed in the name of human science. 
The use of stray companion animals for vivisection has been common practice for centuries. In fact, the wife of one of the most famous and historically prolific vivisectors—the nineteenth century Frenchman Claude Bernard—is known to have rescued and cared for stray animals she found on the streets of Paris to prevent them from being brutalized by researchers . . . including her husband.
In the U.S., the connection between stray animals and vivisection was first cast firmly into public light in the 1940s.
By then, research laboratories were already purchasing "random source" animals (including those found as strays) from Class B dealers, but, as nonhuman animal experimentation ramped up, researchers feared a shortage of research subjects. Joining together to form a powerful lobby, animal researchers successfully spurred the passage of several "pound seizure" laws: state laws that allowed researchers to demand unclaimed animals from animal control facilities and those shelters with animal control contracts. 
Public disagreement with pound seizure laws, along with concerns over companion animals being stolen and sold to laboratories, catalyzed public action:
"The possibility that companion animals may end their lives suffering in a hostile laboratory environment" served to "reawaken interest in the animal research issue".
– Richard Garner, Political Animals
And, the animal movement fought back, gathering significant strength by the 1970s and helping to pass laws prohibiting "pound seizure" in several states (though efforts at introducing a federal prohibition failed). Unfortunately, though, the issue of pound seizure remains very much alive today, with at least nine state codes allowing for the transfer of dogs and cats from animal shelters to research facilities, and the laws in many other states giving municipalities discretion over this practice.
Ending the practice of nonhuman animal experimentation would protect all human and nonhuman animals, including the dogs and cats with whom we share our homes.
Advocating against nonhuman animal experimentation is advocating for the rights and well-being of lost and homeless companion animals.
We encourage you to take a look at the map above and make sure that pound seizure is prohibited in your state. If your state is not green on the map, it's time for you to take action to protect companion animals.
If you live in a state where would seizure is legal, please take one minute now to urge your legislators to ban this cruel practice.