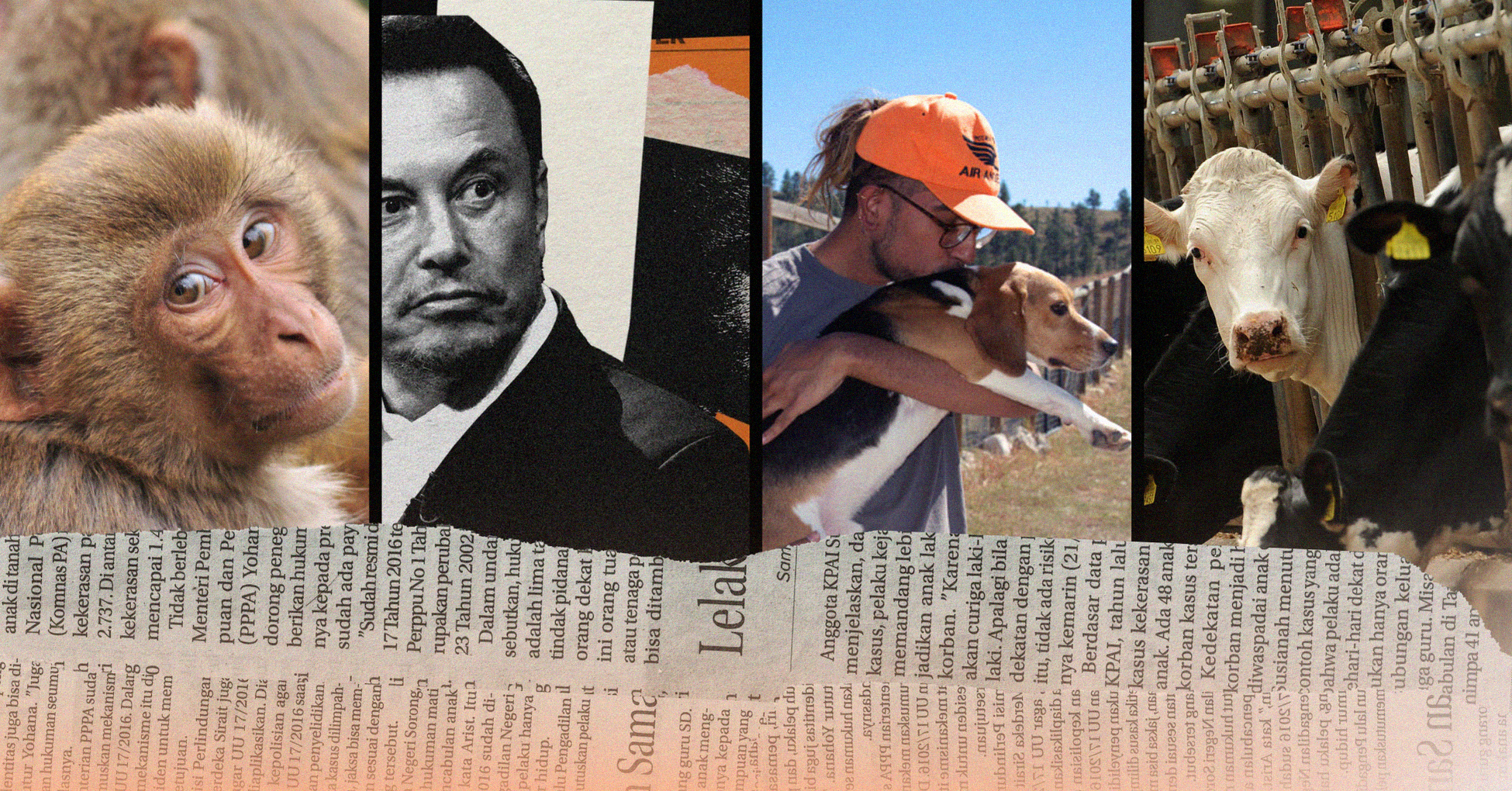 Here's a roundup of this week's biggest news stories related to animal research—all the recent media coverage you need to know right now to be the most effective activist for animals in labs.
---

Animal Welfare Groups Warn Cambodian Monkeys Imported for Labs Could Be Illegally Wild-Caught
Marie Woolf, 9/18/2023
"Canada should follow the lead of the United States and refuse to approve the import of Cambodian monkeys for use in Canadian labs, animal-welfare groups say."
"The U.S. Fish and Wildlife Service has been denying permits for the import of Cambodian macaques after an investigation found evidence that thousands of monkeys caught in the wild have been smuggled to the U.S. from Cambodia."
"[T]he U.S. government's refusal of import permits may have fuelled the big rise in macaque imports from Cambodia to Canada."  📰 Full Story →

"Cooked" to Death: Death of a Monkey at U.C Davis Under Investigation
FOX40 Sacramento News, 9/20/2023
Laboratory staff at the University of California, Davis (UC-Davis) admitted to "cooking" a primate to death by exposure to extreme heat in a transport van. An internal report from UC-Davis recounts how a monkey was left in the transport vehicle with a forced air heater blowing 130-degree air directly onto the caged animal for over an hour. The primate was euthanized after being found in a comatose state.  📺 Full Story →

The Gruesome Story of How Neuralink's Monkeys Actually Died
Dhruv Mehrotra, 9/20/2023
"Public records . . . contain gruesome portrayals of suffering reportedly endured by as many as a dozen of Neuralink's primate subjects, all of whom needed to be euthanized. These records could serve as the basis for any potential SEC probe into Musk's comments about Neuralink…."
"'Animal 15' during the months leading up to her death . . . began to press her head against the floor for no apparent reason; a symptom of pain or infection, the records say . . . she was uncomfortable, picking and pulling at her implant until it bled, she would lie at the foot of her cage and spend time holding hands with her roommate . . . [she] began to lose coordination and staff observed that she would shake uncontrollably when she saw lab workers . . . a necropsy report indicates that she had bleeding in her brain and that the Neuralink implants left parts of her cerebral cortex 'focally tattered.'" 📰 Full Story →

Kindness Ranch Near Hartville Provides Paradise on Earth for Rescued Lab and Research Animals
Stephanie Wilson, 9/20/2023
"Since opening in 2007, Kindness Ranch has been home to animals that have been tested or otherwise used in lab and clinical trials and experimentation at universities, medical schools and private laboratories, providing them a place for rehabilitation, and/or adoption into their forever home."
"When a test-animal's life is no longer 'useful' to the lab, the animal is euthanized, and this is where Kindness Ranch comes in; providing safety, longevity, and freedom."
" . . . Kindness Ranch is the only facility of its kind in the United States that exclusively takes in these animals."  📰 Full Story →

The Animals Are Talking. What Does It Mean?
Sonia Shah, 9/20/2023
"With each discovery, the cognitive and moral divide between humanity and the rest of the animal world has eroded. For centuries, the linguistic utterances of Homo sapiens have been positioned as unique in nature, justifying our dominion . . . Now, experts in linguistics, biology and cognitive science suspect that components of language might be shared across species…."
"The view of language as a uniquely human superpower . . . presumed some uniquely human biology to match. But attempts to find these special biological mechanisms – whether physiological, neurological, genetic – that make language possible have all come up short."
"[W]hat we know so far tethers us to our animal kin . . . we have emerged into a remade world, abuzz with the conversation of fellow thinking beings, however inscrutable." 📰 Full Story →

Farmed Animals are "Research" Animals
Rise for Animals, 9/19/2023
Most of us don't picture the victims of animal research as cows, pigs, sheep, goats, horses, chickens, and others who are exploited on farms by the billions each year. But, unfortunately, we should. This Farm(ed) Animal Awareness Week, we're looking into the use and abuse of farmed animals used in research and testing.  📰 Full Story →
---
Share this news compilation to keep your network in the loop with all things animal research: