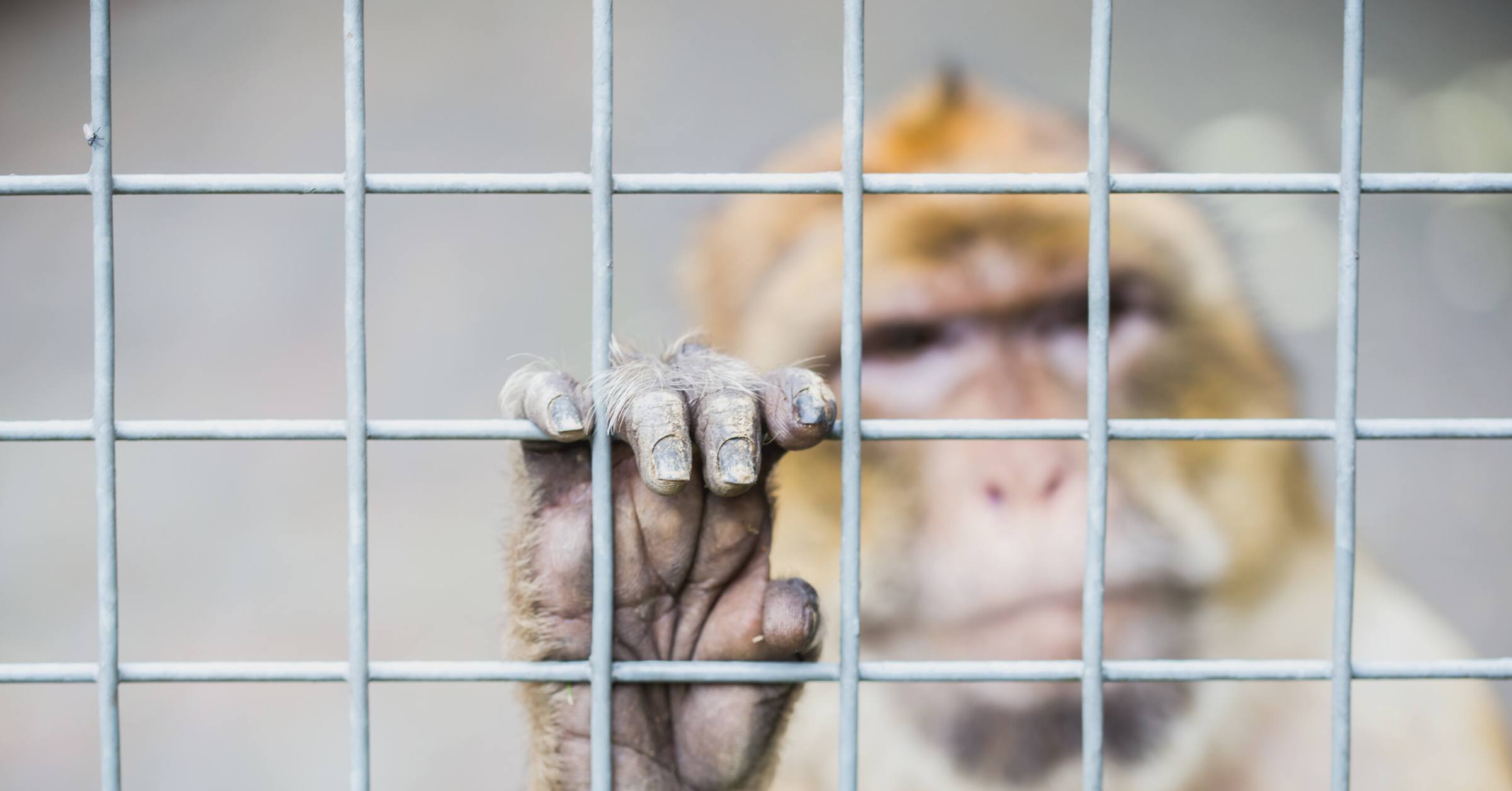 Lawsuit Against the USDA for Better Treatment of Primates
The Rise for Animals Team, July 9, 2020
Until October of 2020, Rise for Animals was known as the New England Anti-Vivisection Society (NEAVS). 
---
Today, on behalf of both the New England Anti-Vivisection Society (NEAVS) and the Animal Legal Defense Fund (ALDF), Harvard Law School's Animal Law & Policy Clinic filed a lawsuit against the United States Department of Agriculture (USDA) for failure to protect primates used in biomedical research.
This suit follows the USDA's rejection of a 2014 petition that had asked the USDA to enact enhanced standards for the psychological well-being of nonhuman primates in research—standards similar to those adopted a year prior by the National Institutes of Health (NIH) for chimpanzees used in federally-funded research.
Today's lawsuit filing claims the USDA's rejection of the 2014 petition is "arbitrary, capricious, an abuse of discretion, or otherwise not in accordance with law." The current standards—written in 1991 when much less was known about the psychological needs of these animals—have been long criticized by the USDA's own inspectors as vague and unenforceable. Current standards fall far short of what the NIH concluded was necessary to support the psychological well-being of chimpanzees. Chimpanzees, it was declared, require being housed with others of their species, having outdoor access, and being able to climb on structures and manipulate objects to support positive mental states.
This new suit seeks to protect the tens of thousands of other primates—like macaques, marmosets, and baboons—commonly used in research in the U.S. One participant at an NIH-sponsored Symposium on Animal Welfare and Scientific Research denounced the detrimental environments in which primates in labs are expected to thrive: "[I]f you show a picture of a primate cage from 40 years ago and a primate cage now, it's basically the same: it's all metal with a perch added."
Nathan Herschler, our Executive Director, says:
No animal should ever have to suffer in cruel experiments, and the suffering by primates is especially vivid and awful to witness. Doing a better job of protecting the psychological well-being of these animals who are subjected to life in labs is literally the least we can do for now. We will never stop until all the cages are emptied.
You can read the full complaint here.
Your support makes our work possible.
We recently joined forces with Harvard's Animal Law & Policy Clinic and a coalition of other organizations and scientists in another lawsuit to protect animals. This petition asks the NIH to include cephalopods—octopus, squid, and cuttlefish—among the beings entitled to humane treatment by animal experimenters receiving our tax dollars. You can learn more here.