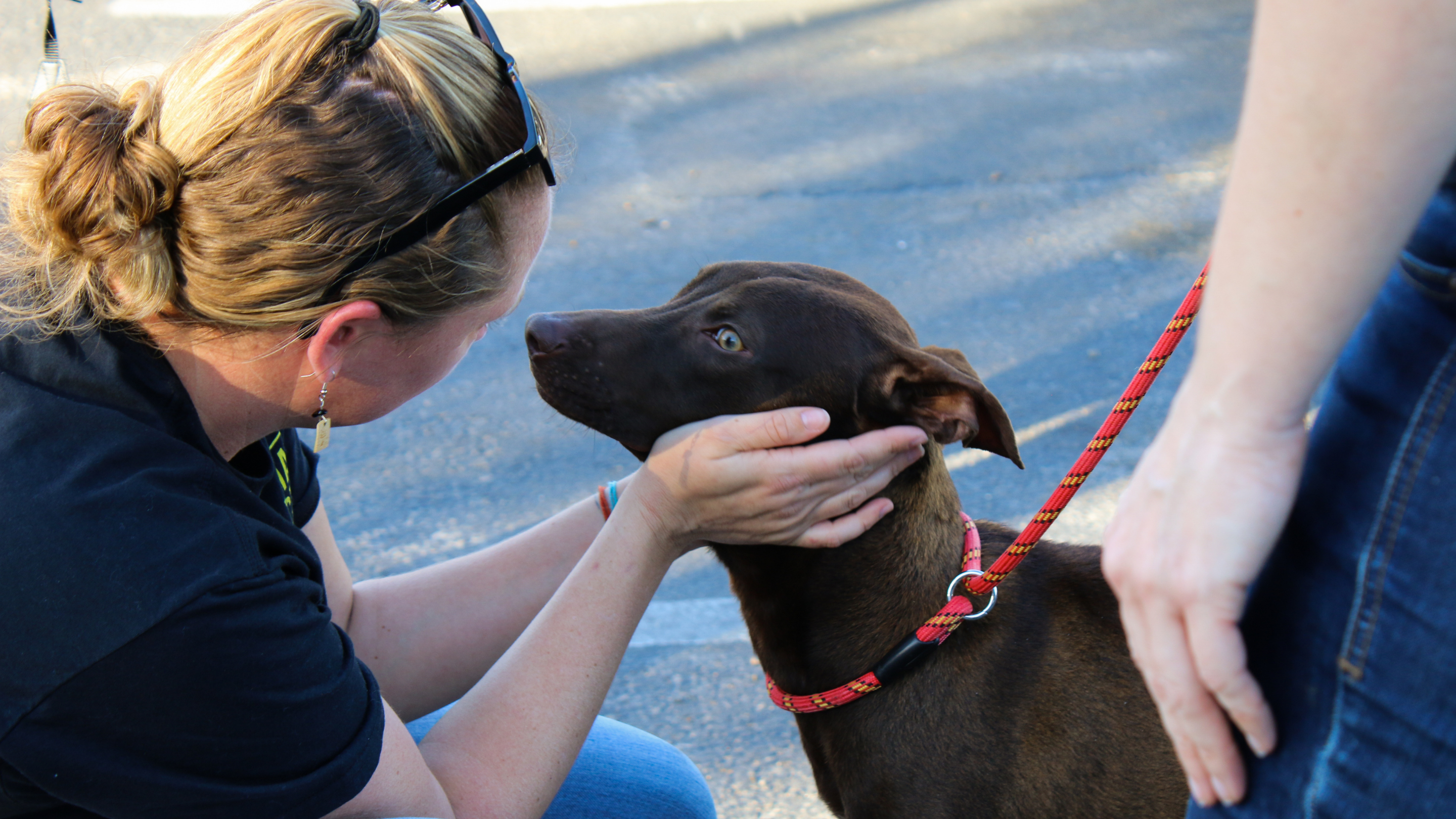 On a bright summer morning, Cooper the dog awakes with a satisfying stretch, his four sleek legs pressed toward the ceiling. His long tail thumping and batlike ears flapping, Cooper rises and excitedly bounds around the room.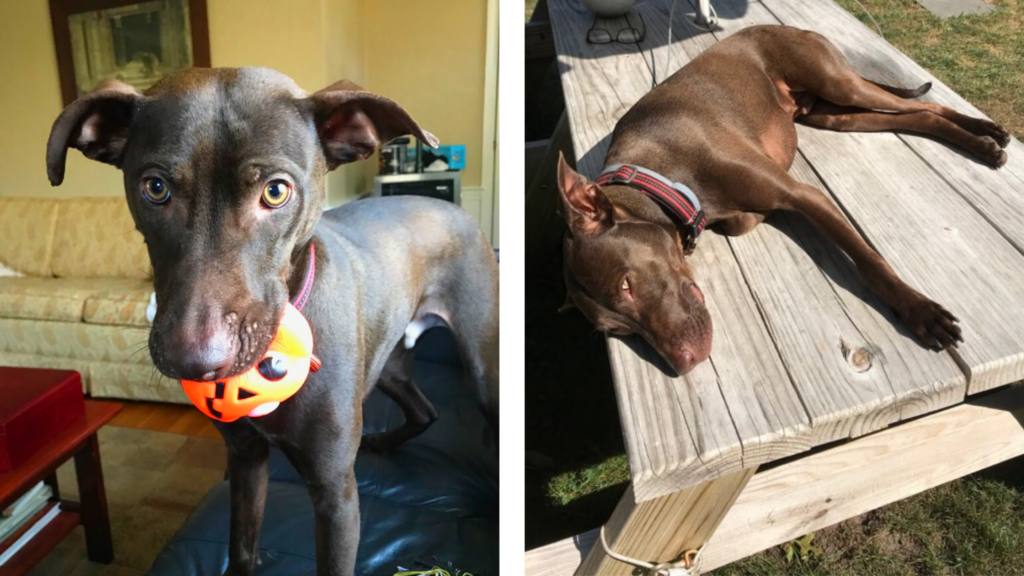 Cooper lives his joy-filled days on Cape Cod, Massachusetts with his family, humans Jodi and Leo and cats Bella, Luna, Gia, and Cali. Jodi says Cooper is the perfect dog, the kind anyone would love to welcome into their homes.
"He's quite a character!" says Jodi lovingly. "He's got those big eyes, those floppy ears. Every morning he's so excited to go on his walk with Leo. He just loves it. He is such a lovebug. He loves absolutely everyone who comes into the house. He loves all people. Every night, when Leo and I sit down on the couch to watch our shows, Cooper climbs right up on us like he's a lapdog."
His life is dreamy now, but Cooper used to live in a laboratory nightmare.
Before his rescue, Cooper was held captive with other animals at a veterinary school where he was being used for surgical practice. He endured the slicing and recovery of an unnecessary removal of his femoral heads—the bony balls that affix his legs to his hips.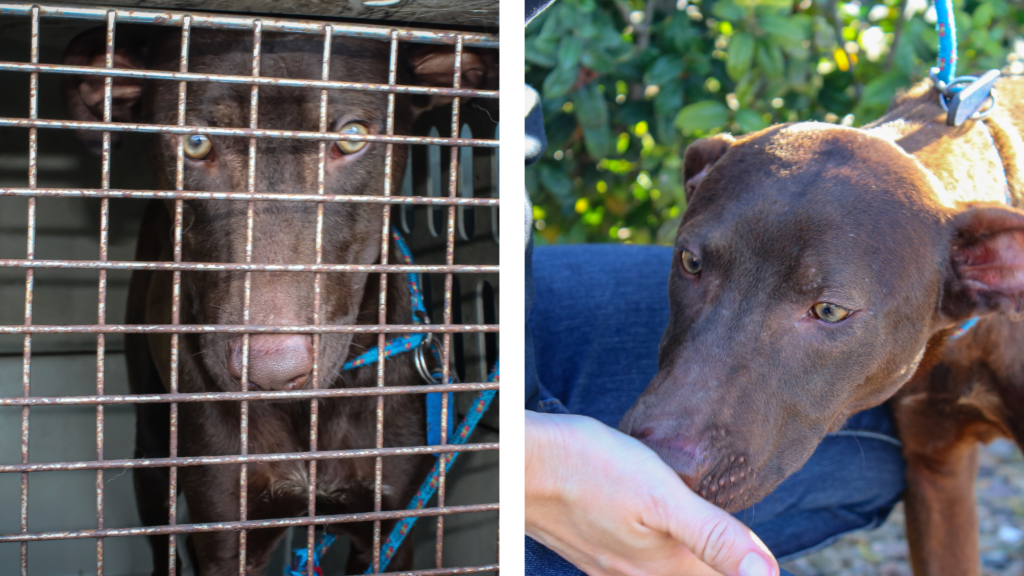 Had our Animal Rescue Team not stepped in to rescue Cooper and his fellow animals from the university, his fate would have been very different. Cooper would have been euthanized at the end of the semester, when he was no longer needed for students' practice. 
Cooper's newfound happiness? Meant to be.
"In October of 2019, I had to put down my dog of 13 years. It was the first time in 30 years I had no dog in the house. It was so empty. But after some time passed, I felt ready—it was time to fill that void and give another dog a home," Jodi says. "The timing just lined up. And when Leo and I met Cooper, we knew he was coming home with us. I guess you just find [a dog] you click with. For us, that was Cooper." 
Though he immediately connected with Jodi and Leo, it took some time for Cooper to get used to his new life away from the barren cell of the vet school or the pound from which he was seized prior. 
"In the early days, any time we put him in the car, he looked so sad—like we were going to take him somewhere and leave him behind," Jodi reflects. "He just had those sad, sad eyes. Over time, he's gotten so much better. Now he knows getting in the car isn't a bad thing—he jumps right in. He even has a bed in my car and a bed in Leo's. Now he's always going in the car with us. He wants to come with us. He loves his rides—it's like he knows he's going on an adventure."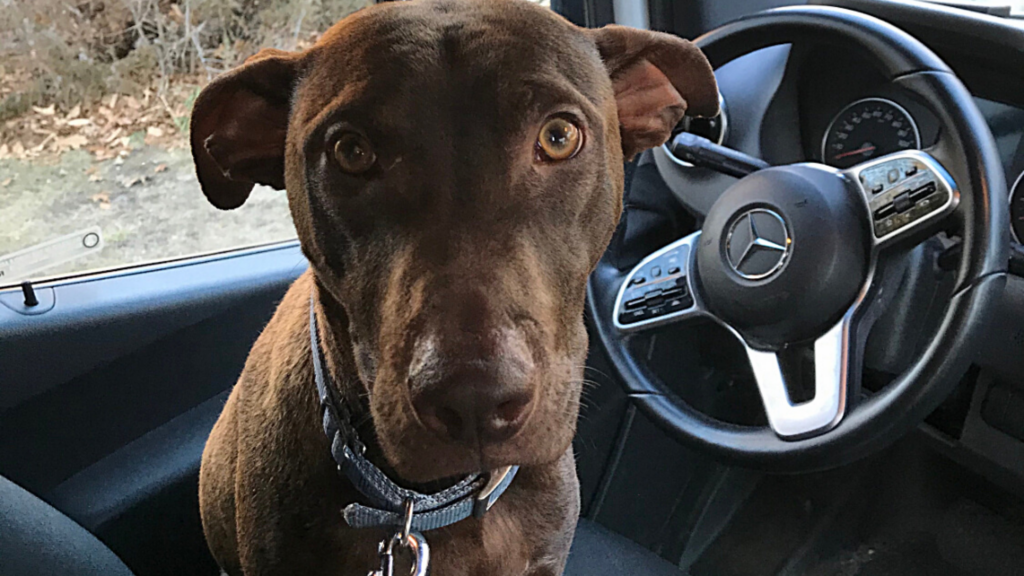 As if a sign Cooper was destined to join her family, Jodi recalls his mysterious—miraculous, even—recovery: 
"When we took Cooper in, we were told he had a problem with frequent seizures. He came with seizure medication that I continued to give to him after he was adopted. In January at a check-up, his vet suggested taking him off the routine medication to see what happened, that it be given to him only if needed. So I stopped giving it to him. And he hasn't had one seizure. He's been totally fine since. Not one seizure." 
"How could someone do that?"
Jodi remains in disbelief of Cooper's past. 
"Sometimes Leo and I will look at the marks on Cooper's legs and ask, 'How could someone do that?' because he's such a good dog. It's one thing if animals have problems that can be treated by vets and vet students—but it's another to cause intentional injury. I can't imagine." 
Cooper's new life wouldn't be possible without your support.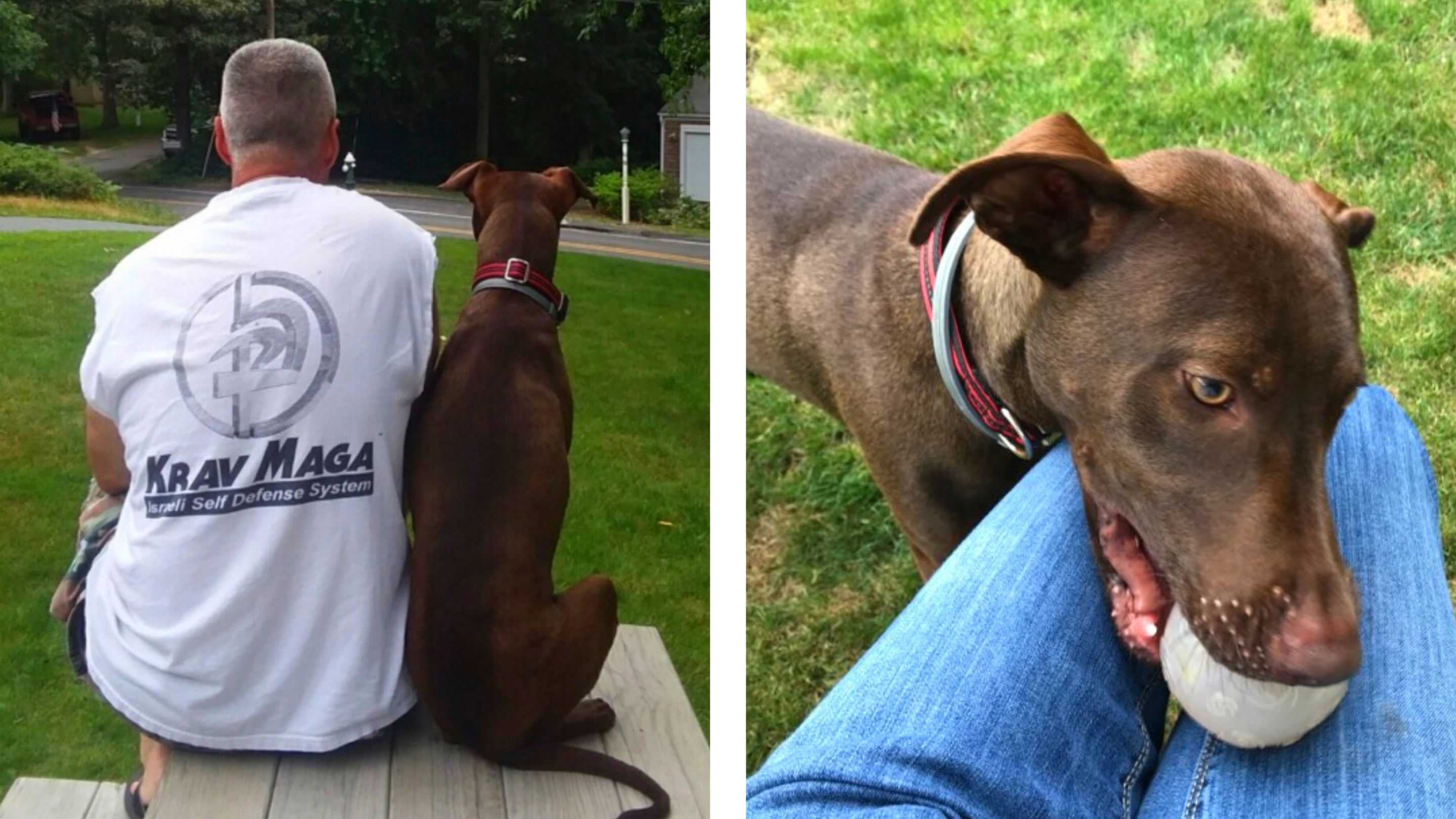 Jodi is immensely grateful for the life-saving rescue mission that brought Cooper into her family. 
"Cooper was the best find for us. We're so happy he's here—and I'm pretty sure he is, too."
Your love and support make dreams come true for animals like Cooper. A donation, no matter how small or large, can take an animal from hell behind bars in a laboratory and onto the loving lap of a human friend. Give a gift today: